Health
At BioFach India 2016, Our New Favourite Foods for Healthy Living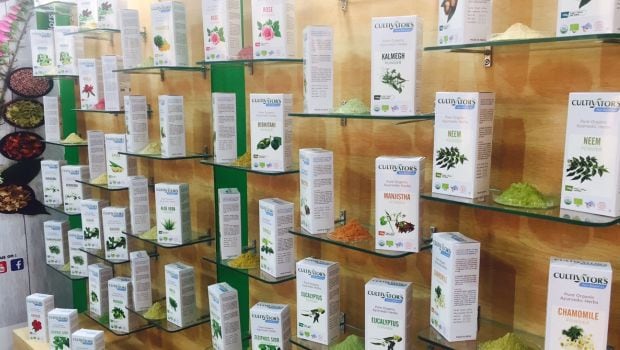 Biofach is India's biggest exhibition to showcase the newest and best organic and natural foods. Packed with over 80 brands and co-operations for three days (10th to 12th November 2016), it was a great place to see and sample a wide assortment of products and trends for healthy living.
To understand how quickly the market for organic food and health products is growing in India, just take a look around at your local superstore. You will find aisles and sections devoted to just healthy alternatives. From low calorie snacks and organic groceries to preservative free packaged food, this broad and plentiful variety is all being made in India.
Biofach was a great informative platform to explore unique healthy products that are available today and a wonderful opportunity to interact with people who understand their responsibility towards crucial issues like our health and nutrition, fair trade, and our environment.
We've brought together our top picks from eight passionate brands and what makes them special. These are all healthier versions of products that top your grocery list and are used daily. This time around, take the plunge and choose to be healthy.
1. Organic Brown Basmati Rice and Groceries, EcoLife
A leading exporter of organic grains since the last 20 years, EcoLife is known for its purity and fine quality. Organic rice, pulses, oils and sweeteners, you will find all staples you need for a healthier lifestyle. We were quite impressed with their Quick Cook Brown Basmati Rice which takes only about 15 minutes to cook unlike regular brown rice and is obviously more nutritious being 100% organic.
"We work with about 8% of the certified farming base. We train them, empower them, help them grow healthier produce and lead better lives. Ours is not a business model, we're creating sustainable solutions for agriculture in India and the nutritional needs of our people. Our aim is to promote an organic lifestyle that's good for the consumers, the farmers and their family and also for the environment," says Tapan Ray, Managing Director and CEO, EcoLife.
2. Dark Chocolate with Desi Superfoods, Nature Organic
The dark chocolate bars with the goodness of desi , organic herbs like ashwagandha, turmeric and moringa are deliciously healthy. Founder and Certified Nutritionist, Sonia Sharma used created different combinations like turmeric and spirulina for anti-radiation, matcha and barley grass for weight loss or ashwagnadha and rose as mood boosters. Nature organic has the full range of Cacao – from pure cocoa butter to cocoa powder and nibs and organic and procured from South India. You see, healthy can be fun! "Being a nutritionist, I always wanted to create healthy products that people would really enjoy consuming and not just consult them on what to eat," shares Sonia.
3. Infused Honey, Organica
If you like to try new flavours, you will love these. "I used to have honey mixed with cinnamon. I loved the taste and that led to the idea of making honey infused with different flavours," says Tara Chadha, Owner and Director.
Forest honey is procured from their organic farm in Uttrakhand and infused with traditional herbs for about eight months and processed naturally. There's ginger honey for a sore throat, honey in to beat the cold, tulsi honey that acts as an antioxidant and of course, cinnamon honey that helps in weight loss.
4. Ready-To-Cook Breakfast, Terra Greens
Breakfast is the most important meal of the day and often the most neglected one too. Terra Greens makes it so much easier to manage your morning meal with their convenient breakfasts that take less than 20 minutes to cook! Made with organic super grains like foxtail millets, wheat daliya, suji and quinoa, they're great for a healthy start. Choose from a variety of khichdi, poha and upma and know that a quick meal doesn't have to be unhealthy. For the Suji Upma and the Poha all you have to do is add some hot water and you meal will be ready in minutes.
Based in Hyderabad, Terra Greens Organic believes that organic food is a necessity and not a luxury and we completely agree. All ingredients directly come from their own farms and their farmers are trained in organic farming practices and educated about the benefits of sustainable farming.
5. Kachi Haldi, LRM Spices
You'd be surprised to know that spices are one of the most adulterated condiments. Be it brick powder mixed with red chillies, coriander powder with saw dust or turmeric with starch, it is easy to get fooled if you don't know and risk your health.
LRM spices are made with organic ingredients procured from their own farm in Kerala. Post harvesting, the raw materials are sterilized and are grinded using the cold grinding technology where ingredients are ground at very low temperatures to prevent the loss of essentials oils and nutrients that may be destroyed by heat. It also helps in preserving the natural colour of the spices. Their Kachi Haldi is a must have.
6. Hair Herbs, Cultivator's
Cultivator's manages about 1000 acres of organic cultivation of herbs and botanicals in Jodhpur. Pure, organic Ayurvedic herbs are their specialty products. Fresh ingredients are dehydrated before processed. The main purpose of dehydration is to convert the raw material into dry products, so that the active ingredients and properties can be preserved.
These powdered herbs can be used in your hair masks for healthy hair. There's Aloe Vera Powder that conditions your hair, Moringa Powder that makes them soft, Amla Powder for nourishment and many more.
7. Health Juices, Nature Land
Nature Land's health juices are extracted in their purest form from organic ingredients to boost their nutritive and medicinal properties. Choose from a range of health tonics like Aloe Vera Juice, Triphala Juice or Amla Juice. These juices are great remedies for glowing skin, better digestion or to boost your immunity. Established in 1999, when organic farming was still a very new concept for India, Nature Land works with the vision of a vision of 'Healthy Soil, Healthy Food, Healthy Life and Healthy Environment'. They work with more than 30,000 farmers across the states of Uttarakhand, Rajasthan, Punjab, Uttar Pradesh, Karnatka, Maharashtra, Himanchal and Madhya Pradesh.
8. Organic Tea, T-Tales
The Jalinga tea estate from where these teas are grown and processed is the 1st and the only
CO2 Neutral tea estate in the world. These means that the tea estate has achieved net zero carbon emissions. Given the grim pollution scenario in the capital city, this is a great example of how manufacturers can make a difference. They've adopted an innovative composting technology which ensures the shortest bio-degradation period – only 21 days and that has made it one of the most carbon efficient tea estates in India. Also, there is no usage of chemicals, fertilizers or pesticides at any stage of growing, harvesting or processing these teas. From regular green tea to Assam tea and variety of flavoured teas, you can pick from a range of great quality organic brews. You will also find the Japanese favourite Matcha tea which they're growing in India.
["source-ndtv"]