News
5 Things to Do during Navratri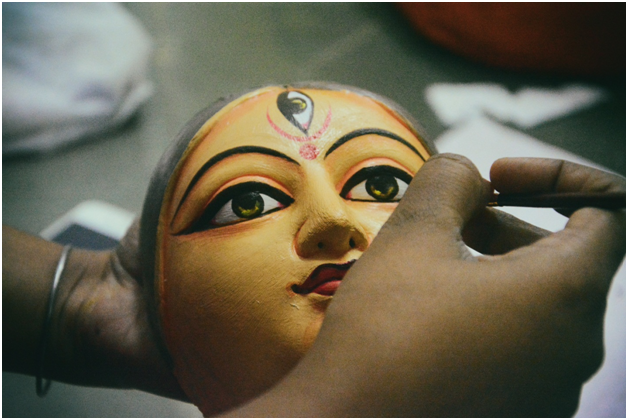 Navratri, a nine-day festival is celebrated by worshiping the Hindu deity MaaDurga. It is believed that MaaDurga bestows prosperity, wealth, and knowledge on her followers during this auspicious time.This festival comes just before the festival of Dussehra and is celebrated with great pomp and splendor, all over India.
Apart from the fun and fiesta, it is necessary to follow a certain list of "Dos and Don'ts"during this auspicious period. Following is a list of five things you may do during Navratri.
Worship the deity Durga
Woman worshippers have an early bath in the morning, which is then followed by singing prayers to the goddess. Certain foods are offered to MaaDurga. It is believed that offering water to the goddess is an auspicious act during the festival of Navratri.During this time, people abstain from certain kinds of food such as wheat, rice, dishes made from spices, and pulses, besides others.
Visit the temple regularly
Visit a temple on a daily basis during Navratri to seek blessings of the goddess. As a sign of worship, you may light lamps, perform aarti, and offer flowers. There are numerous Durga temples across India, which you may visit during this time. Some of the most popular ones are the MaaVaishno Devi Temple in Jammu, Naina Devi Temple in Bilaspur, KamakhyaTemple in Guwahati, DakshineswarTemple in Kolkata, and Karni Mata Temple in Bikaner.
Decorate the idol of MaaDurga
If you look around, you may see artisans adding finishing touches to the idols. Once you have brought theMaaDurga idol to your place, you may adorn it with flowers, clothes, bangles, and garlands. Doing so shows a mark of respect towards the goddess. You may further enhance your decorations by adding diyas, floral arrangements, colorful rangoli designs, and floating candles.
Light the AkhandJyoti
Devotees light the AkhandJyoti—a lamp lit with pure gheeduring Navratri. This lamp keeps burning throughout the nine auspicious days. Lighting the AkhandJyotisends out a message of never losing hope even during the bad phases of life; just like the lamp that lights up the darkest places.
Shop
Navratri is a festival that gives both men and women a chance to buy clothes; perhaps, a new one for every night. Women also shop for matching jewelry as well as invest in makeup products.
In order to cover all your expenses such as apparel or decorations during Navratri, you may borrow a personal loan from a bank or a Non-Banking Financial Company (NBFC). Lenders do not question the purpose of borrowing such a loan and hence you may use the obtained finance to meet your expenses, this festive season. You may either borrow through the Internet or through a branch. Borrowing from the Internet has its own set of advantages such as convenience, competitive interest rates, and exhaustive online information. Besides, most lenders have a personal loan calculator online, which may be used to determine the amount you need to pay on a monthly basis. You may also track your repayment schedule online and compare numerous lender options.
So, borrow a loan and have a fun-filled and blessed Navratri without straining your finances.