Fashion
Boohoo boss in line for £50m bonus if share price rises by 180%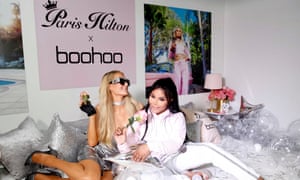 The new chief executive of Boohoo is in line for a £50m bonus if shares in the online fashion retailer rise by 180% over the next five years.
The fast-growing company has poached John Lyttle from Primark, where he was chief operating officer, and said its major shareholders had signed off on the incentive package.
But the High Pay Centre, which monitors executive remuneration, said it was hard to justify rewards on such a scale, pointing to similar bonuses that have proved controversial this year at housebuilder Persimmon, gambling firm GVC and turnaround specialist Melrose.
Under the bonus scheme, Lyttle will get £50m on top of an annual salary and a bonus worth up to £1.5m, if the company's share price increases by 180%, increasing the company's stockmarket value from about £2bn to £5.6bn.
The incentive plan will not pay out anything until the company's market value rises by at least 60%, Boohoo said.
The clock starts ticking on the award timeframe immediately, even though Lyttle will not actually take up the post until March. News of his appointment saw Boohoo shares rise by 2% to 173.45p.
Luke Hildyard, a director of the High Pay Centre, said: "There has been widespread anger at executive pay awards that typically run to about £4m or £5m, so potential payments in the tens of millions are particularly controversial.
"Companies who have used similar pay structures in the past, including Persimmon, Melrose and GVC Holdings, have attracted a lot of criticism from policymakers and investors.
"There's a lot of research that suggests huge pay awards don't really incentivise or motivate executives; executives are not necessarily the most important drivers of company performance and the vast differences in pay between business leaders and their workers negatively affects organisational morale."
Persimmon chief executive Jeff Fairburn saw his bonus trimmed from £100m to £75m amid investors' dismay at the scale of the payout, but even the reduced amount was described as "unfathomable" by the then housing minister Dominic Raab.
A Boohoo spokesperson said the plan had been agreed with major shareholders of the company, whose largest investor is South African financial services group Old Mutual.
The company, which is listed on the junior Aim stock market, has seen its sales jump by more than 50% in the three months to the end of May this year, compared with the same period last year.
Its sales have risen 24-fold since 2011 to about £580m for the year ended in February, boosted by promotional deals with celebrities such as England and Tottenham Hotspur footballer Dele Alli.
Boohoo's joint chiefs and co-founders Mahmud Kamani and Carol Kane will both remain on the board of the company after Lyttle joins.
["source-businesstoday"]