Education
Families take ministers to court over special needs education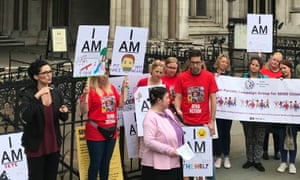 Lawyers representing children with special educational needs and disabilities have told the high court there is a crisis in funding that is depriving children of a proper education and risking blighting their lives forever.
The hearing, a landmark legal challenge to the government's funding policy, was told the allocation for children and young people with special educational needs and disabilities (Send) was "manifestly insufficient" in the face of clear and incontrovertible evidence of a "substantial national shortfall".
Three families, supported by many others who staged an emotional demonstration outside the Royal Courts of Justice on Wednesday, have brought the case against the education secretary, Damian Hinds, and the chancellor, Philip Hammond. They accuse the government of failing to give adequate funding to local authorities who are responsible for Send provision.
Jenni Richards QC, for the families, told the court in written submissions: "The evidence strongly supports the contention that there is a genuine crisis in Send funding. Importantly, it is not the case that the shortfalls in funding are currently being absorbed by local authorities with relatively little impact on frontline provision.
"On the contrary, the direct result of the lack of funding is that children with Send are not being properly educated, notwithstanding the fact that parliament has required their needs to be met. This has the potential to blight the lives of these children forever, seriously limiting the scope for them living independent lives as adults."
Richards accused the chancellor of acting unlawfully when setting the national budget in October 2018 and made the same allegation against the education secretary over additional Send funding made available in December 2018, accusing each of failing to take sufficient account of the "nature and extent of the crisis" when making those decisions.
She said: "There is no evidence that the defendants have ever asked themselves whether Send funding is sufficient to allow local authorities and schools to comply with their statutory duties and meet the needs of this particularly vulnerable cohort of children and young people, whereas all the evidence … says it is not."
Government lawyers said ministers recognised the increase in demand for Send provision and acknowledged the difficulty some families had securing their entitlements. The court was told the education secretary had already said that high needs funding would be one of his priorities before the 2019 spending review.
Sir James Eadie QC, representing the ministers, said the chancellor had given careful consideration to the situation, but there were competing demands for a finite pool of government money. "These decisions have been taken in full knowledge of the challenges faced by local authorities … In addition, they have been taken in the context of a complex policy area – school funding – which requires the secretary of state [for education] to make difficult decisions balancing competing priorities."
He said ministers did not accept that significant additional funding in the short term was the only possible solution. "Rather, the defendants consider that the appropriate overall balance between the allocation of additional funding [in revenue and/or capital form], interventions aimed at reducing costs and improving efficiency, and changes to local authority policies and practices, remains to be determined."
It is the first time the government has been taken to court over Send funding, which has come under intense scrutiny amid growing complaints from families that their children are losing vital educational support to which they are entitled.
Outside the court, families and young people with Send described their experiences of the system.
Mary Riddell, of Great Barr, Birmingham, was one of those named in the action. Her daughter Dakota, 10, has a number of conditions including cerebral palsy, global development delay, and the muscle disorders clonus and dystonia.
Riddell told supporters she had had to fight for every single provision for her daughter. "The fight is real, exhausting, mindblowing. I'm here today to fight for what is right and to fight for my daughter's rights. Local authorities are so chronically underfunded, there's no way they can meet demand.
"The situation as it is cannot continue or else Dakota and a huge number of other vulnerable children will ultimately lose out. We feel our concerns have been repeatedly ignored on this issue and we hope this action will ensure the government finally sits up and pays attention."
Also bringing the case are the families of 15-year-old Nico Heugh Simone, from Robertsbridge, East Sussex, and 14-year-old Benedict McFinnigan, from Scarborough, North Yorkshire. Benedict, who has post-traumatic stress disorder, anxiety, depression and chronic insomnia, has not been in mainstream school for about two years and is now attending a pupil referral unit for less than three hours a day.
Nico, who has autism, anxiety and other related conditions, requires special support to remain in mainstream school, yet his family said they had repeatedly faced issues with East Sussex county council over the cost of his requirements.
His mother, Lorraine Heugh, said before the hearing: "We feel we have been left with no choice but to take this action. We are hopeful the high court will recognise the national emergency that is being created by the lack of Send funding and order action to be taken to redress this issue."
The hearing is due to last two days, after which Mr Justice Lewis is expected to reserve judgment to a later date. The high court previously rejected cases brought by families of children with special educational needs against Hackney and Surrey councils.
["source=theguardian"]