Travel
Nature trail: exploring Germany's largest island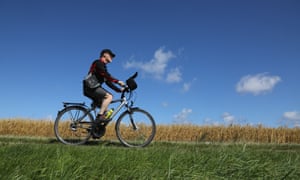 Can the contrast between Britain and Germany be more stark than when it comes to public nudity? I come across it on my cycling tour of Germany's largest island, Rügen, almost as soon as I pedal across the bridge that connects it to the mainland and the elegant Baltic port of Stralsund.
I've done just a few miles through shady woodlands and sleepy villages of quaint thatched cottages. There are cycle paths almost all the way and I'm enjoying myself. The sun comes out. In a lovely patch of forest, I swing off down an unmarked track. Who cares about directions? You can't go wrong here, and I want to see the sea.
I emerge by the water and take a coastal path that soon degenerates into a boulder field. I carry the bike to a beach that is a metre wide, and on it, basking magnificently, is a middle-aged man with a pot belly that is almost a metre deep and sun-ripened to walnut brown. Not a stitch on him. I pause, then edge past. There is no one else around. He is the only person I can ask for directions.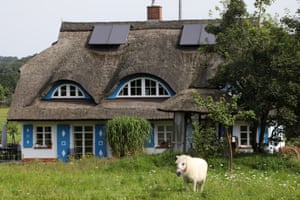 "Guten Morgen," I say. "Do you speak English?"
"Nee." That's another thing about Germany. They often don't speak English, and they often don't speak German either. I am beginning to realise that all over this country, people speak their own dialect, a dialect that is sometimes so different from standard High German that it is effectively a different language.
In Bavaria, there's Bayerisch, unintelligible to outsiders. In Frankfurt, it's Hessisch; a little way east there's Thüringische, and in Nuremberg, Fränkisch. Here they speak a type of Plattdeutsch, hence, nee not nein. Most, of course, actually do speak High German too, but perhaps not at home. It makes the linguistic landscape far more fascinating than I had ever suspected.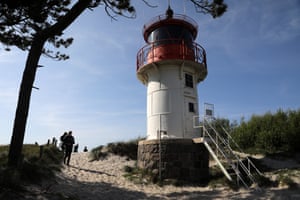 "Bitte. Wo ist der Wanderweg?" I venture, in my very best Rushby-isch.
He points, with his finger, back into the forest.
I have a long-held theory about travel: that the best experiences come when you get lost. I find a soft, narrow path that winds delicately through the trees for a mile to reach a locked gate. I stop. At that moment, something swoops over my head. I glimpse huge broad wings as the bird turns, jinking around the tree trunks and then perching. A goshawk.
Ten minutes later, I have recovered the true path and emerge from the woods by a wheat field in which a marsh harrier is hunting. Two deer pop their heads up from the wheat and come leaping towards me. When they realise I'm not a fellow deer, they bound away to the trees.
I'm discovering that Rügen has a subtle charm. It may be, at first glance, a flattish, unremarkable arable island, but it conceals all manner of wonderful things. On the second day, it's the white sandy beaches of the south-east, the Mönchgut, plus its cycle paths lined with apple, pear, cherry and plum trees; on the third, it's the 18th-century Granitz hunting lodge, the neat Victorian elegance of the seaside town of Binz, and an aerial combat between a rough-legged buzzard and a sea eagle.
For my fourth day, I leave the bike behind and walk from the coastal village of Lohme into Jasmund national park. Unfortunately it's raining heavily and the earth track through the tranquil ancient beech forest is slippery. I slither down to the beach – a remarkable place that seems to be made entirely from flints and white feathers. This is soon explained when I come across large bevy of swans dabbling about in a seaweed bed under chalk cliffs known as the Königsstuhl (king's seat).
The flints get larger: some bigger than an average swan. I find a path eventually and scramble up to the visitor centre. The walk back along the top of the cliffs feels epic and magical: nothing beats an ancient beech forest.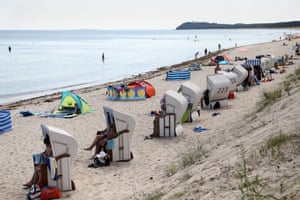 Back on my bike the next day, I head towards the north coast, a quieter area with empty beaches. I am never very far from refreshments of some sort, though. Signs for fish are everywhere – smoked herring or a fish roll usually, maybe served with some sea buckthorn relish, a local speciality, and a glass of Störtebeker beer, brewed in Stralsund and poured into a curved glass resembling a sail.
The big open skies and wholesome rural life have long been an attraction here, especially for writers and artists: Caspar David Friedrich painted here; Brahms loved it; Helene Weigel, Bertolt Brecht's widow, settled in Putgarten village; and Hans Fallada, author of Alone in Berlin, came during the 1930s, hoping to wean himself off morphine with its pure sea air.
Still attracted are the amber-hunters, who scour the shoreline for the fossilised resin that often turns up on beaches after storms. Along that long, sparsely inhabited northern coast I lean my bike on a beech tree and clamber down to an empty beach, but I have no luck with my prospecting. Instead, I wander through the cliff-top woods and fill my pockets with delicious wild plums.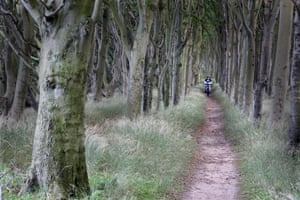 My final day starts with a 20-minute ferry ride to the island of Hiddensee, a 16-km long pencil-thin, island. On a sun-soaked day it looks wonderful: thatched cottages everywhere, and transport by horse or bike. I can see why German families love it. I'm soon hooked by this Baltic lotus-eater land myself. Why didn't I plan ahead and retire forever to a thatched cottage surrounded by heather and hollyhocks? Instead, I have only a few hours to pedal the entire island, finally running out of steam on an idyllic sandy beach in the south.
Would you Adam and Eve it? Most people are naked and deeply tanned. They make it look so natural. I strip. They don sunglasses. I know what they are thinking, probably in Plattdeutsch. "Mind the glare. The British have arrived."
Source:-theguardian