Travel
Wikipedia launches travel site Wikivoyage on January 15
Move over Michelin and Frommer. There's a new guide to travel in town, and it comes from the creators of Wikipedia.
Wikivoyage, currently in beta, will be ready for prime time on January 15, according to the travel site Skift.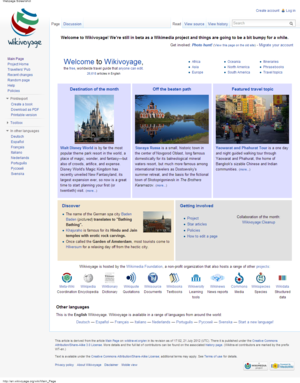 Earlier this week, Wikipedia founder Jimmy Wales said during an interview on Comedy Central's Colbert Report that development of the travel site was a priority of the nonprofit Wikimedia Foundation, which runs the online encyclopedia and other properties.
Wikivoyage contains more than 25,000 articles on places around the world. The articles can be viewed on a number of devices—desktop, notebook, smartphone, and tablet—and can be freely downloaded as a PDF file, printed, or even gathered into a book so you can create a custom guide for a trip.
Each article is laid out in the familiar Wikipedia format and will provide historical information about a location as well as suggestions how to get there and travel around within it, what to see and do while there, and information on the essentials—eating, drinking, shopping, and sleeping.