Fashion
Three take-aways from Jakarta Fashion Week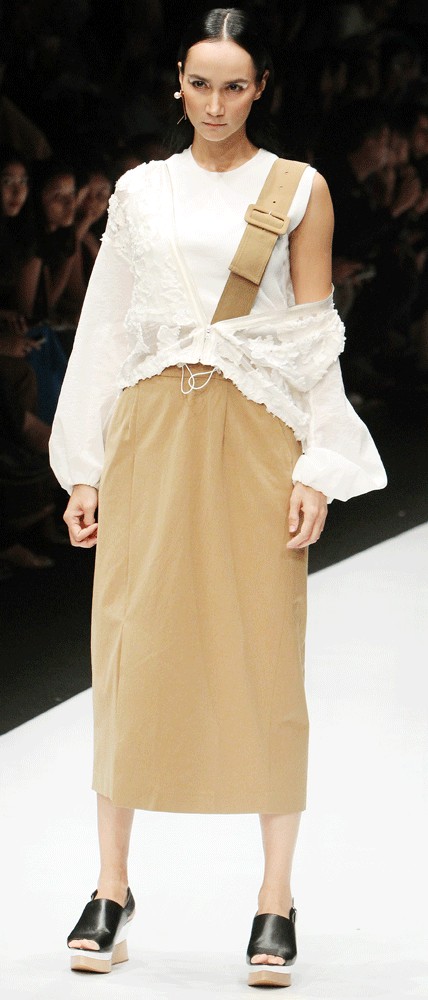 As impressive as they were, top figures and celebrities flocking the latest Jakarta Fashion Week (JFW) may have stolen attention away from the catwalks but luckily, fashion trends were not in short supply.
Pleat Perfect
Even the most basic of clothing can be elevated with pleating. What's more, the seemingly recurring trend is a perennial favorite for every season for designers and fashionistas alike, having been spotted as recent as Fall/Winter 2018.
Not counting the ubiquitous knife pleat midi skirts — which seems to have transcended the realm of trends into a genuine staple — JFW 2019 brought pleats into a variety of styles and colors.
British label Teatum Jones juxtaposed a knife pleat panel in dark grey with a black and white check pattern for a skirt, as well as a sharper plissé pleat because of because of cropped trousers in a rich navy hue, both styled with cold shoulder tops.
Meanwhile, alex[a]lexa went for classic feminine with a touch of old-world Americana via a plissé midi skirt, updated by utilizing a three-tier silhouette in soft beige, as well as a pair of two-tier capris in white.
I.K.Y.K also offered pleated pieces in soft neutrals, but included vibrant hues as well, most notably in a multicolored tiered skirt in bold red, black-and-white dots, white and light grey styled with a light brown outerwear worn like a cape.
Stripes Season
The classic stripe was given an overhaul at JFW 2019, transforming holiday-ish horizontal lines and staid pinstripes into something more current.
Hijabi hipsters would certainly gravitate to Hannie Hananto's take on stripes in collaboration with Flamoush, juxtaposing classic black-and-white with denim-hued blues with a pop of red.
Saul used the classic horizontal black-and-white stripes on a pair of wide leg trousers, contrasting them with a white sleeveless peplum top for a more casual look.
Meanwhile, SOE Jakarta injected a touch of heritage in their take on stripes, with handwoven tenun from Yogyakarta in understated blue, white, and beige being one of SOE Jakarta's patterns for the season.
Those going for bold would do well to check out Cottonink's offerings of multicolored stripes, ranging from a wrap-style jumpsuit to an off-shoulder top with matching wide leg trousers.
Japanese Je Ne Sais Quoi
Fans of everything Japan rejoice, as the country's unique aesthetics are currently in vogue yet again, at least judging from the catwalk.
No Indonesian brand's aesthetics plays up the Harajuku district in Tokyo's fashion scene like Danjyo Hiyoji, which showcased two separate collections at JFW 2019.
The presentation under the Senayan City X Designers Room featured a more laid-back vibe combining darker stripes with loose silhouettes reminiscent of a Japanese summer festival, while the Indonesia Fashion Forward show definitely captured the more modern side of Japan thanks to its bold color palette and prints as well as styling from Japanese fashion stylist Makoto Washizu.
In Wardah's "The Unstoppable You" show where six labels take on six world cities as inspiration, modestwear label ETU took on Tokyo, interpreting the Japanese capital with a soft pastel palette and floral embellishments as well as distinctly Japanese pieces such as kimono-like silhouettes and the use of obi-esque sashes.
While Japanese-inspired looks certainly appeal to the modest audience because of their loose fits, Japanese brand Yoakeh seems intent on capturing the Muslim fashion scene with an authentic Japanese take on modestwear.
Zenta Yoshie, the designer behind Yoakeh, said he was inspired by the Indonesian hijab community after visiting the country, which he then translated into looks such as a pinstriped white jumpsuit layered over a white pussy bow blouse styled with a blue suit jacket and red headscarf.
Other Japanese brands also took part in JFW 2019, including Tategami with their unisex garments styled after Japanese workers, UN3D's soft and sleek femininity, and Elendeek's simple yet structural pieces.
["source=cnbc"]