Fashion
Victoria Beckham Kissing Husband And Kids At Fashion Show Is Super Cute
Her whole family was there to cheer her on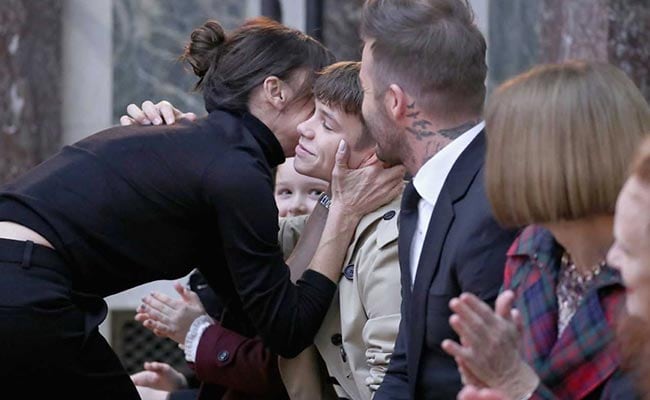 They say that you can't have it all but if there's one woman who can possibly prove them wrong, it's Victoria Beckham. With a brood of beautiful children, David Beckham for a husband and creator of one of fashion's most coveted designer labels, we can see why. Another cause for cheer for Victoria Beckham is the fact that her eponymous label, which was founded in 2008, completes a decade in 2018. Although she plans to celebrate it by making her London Fashion Week debut later this year, her first showcase of the year, and her last at New York Fashion Week a few hours ago, definitely got the party started.
Marking the grand moment was a collection of muted layered looks in tones of olive, camel and grey with a few pops of purple and blue thrown in. Crisply tailored trench coats, coordinated collared suits and pleated bottom wear were the main highlights. Accessories like oversized bags, chunky loafers with a barely-there makeup look also made an appearance on the runway. And while it was a typically Victoria showcase with its clean cuts and poised fits at New York's Burden James Mansion, that wasn't really what caught our attention.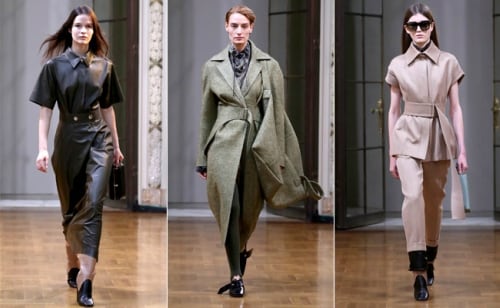 Even though she's a former Spice Girl and, now, businesswoman, Victoria is known to a be loving wife and doting mother to her four kids. So unsurprisingly, husband David Beckham with sons Cruz, Romeo and daughter Harper sat on the front row to show their support for Victoria. The only one noticeably missing was their oldest, Brooklyn. Of course, the family looked incredibly fashionable with the children in long coats and David in a suit. Now if that isn't a lovely family moment, we don't know what is.
Post the showcase, Victoria arrived on stage clad in a chic black turtleneck, wide-legged trousers and a messy bun. She then headed straight for her family and gave each of them a hug and a kiss, waved to the crowd and head back. The adorable video and pictures went viral almost instantly on social media and showed us, once again, just why we can't get enough of this successful, loved-up celebrity family.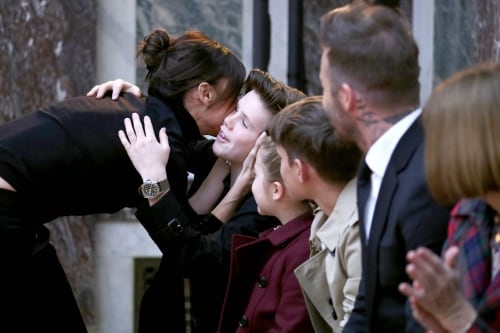 Victoria kissing son, Cruz 
Victoria hugging daughter, Harper while she smiles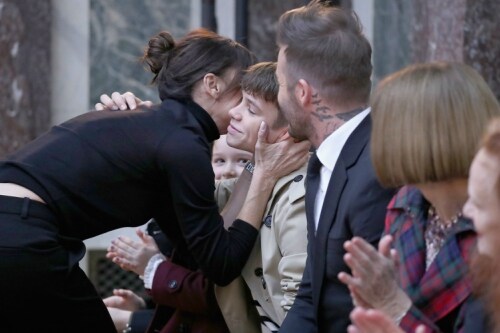 Victoria kissing son, Romeo post her show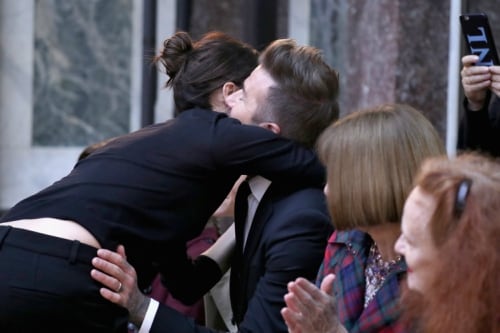 Victoria greets husband, David with a tight hug and kiss 
Image Courtesy: AFP
Congratulations, Victoria Beckham. She's come a long way since The Spice Girls.
["Source-ndtv"]