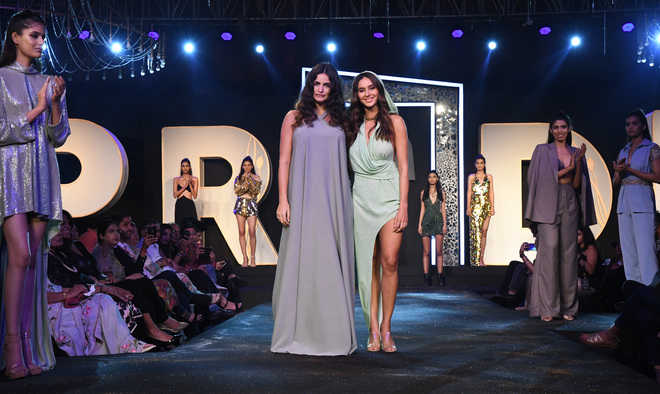 Mona
If we want to rewrite the world history that's equal, women supporting women is the new-age mantra. A beautiful example of it was witnessed as Shibani Dandekar and Gabriella Demetriades took the centre stage in City Beautiful!
"Shibani was my first celeb client," South African model-turned-actor-turned-designer Gabriella shares merrily recalling how at a pop-up, Shibani picked up almost the entire rack. "It's been one partnership that I have enjoyed to the T," smiles Shibani, who insists the last two seasons of IPL that she hosted were a breeze for Gaby's designs made her comfortable in her skin.
In Chandigarh, the duo stood by each other, sharing their inspiration in world of glitz and glamour. Hosting remains Shibani's forte, however, it's acting that she's enjoying currently. "There are long hours at times stretching up to 16 when I host The Stage. Contrast that to the long wait for hours for your scene when it comes to acting is mind numbing but still it is my current love," she laughs.
Chandigarh happens to be her most favourite city in India and starting the day with breakfast at The Flying Sikh Milkha Singh's house a treat she thoroughly loved. "Being in Punjab, paranthe it is, I try eating healthy but lose steam soon enough," giggles the skinny girl making one believe otherwise.
An actor, anchor, singer, she is into all things creative. However, it was singing that she started first when she was young. "I recall singing duets of Jagjit Singh and Chitra Singh with my father on the terrace in Africa." Woh Kaghaz Ki Kashti, Tum Itna Jo Muskura Rahe Ho are her favourites. Move over to present, it's Flawless Beyonce who's her current queen!
"Though she's younger than me but my inspiration. For a genius she is with music. Each of her note, aesthetics are to the point," she vouches.
Fashion forward she is, in love with animal prints, and neons are her favourite this season. Ask of true love, her publicists come rushing with 'no personal questions please', however with a twinkle in her eyes, Shibani does mention the name, Farhan Akhtar – the best dressed celeb among men and Deepika Padukone among women.
Next is her love for animals. Jimmy at present in 'news' who she shares is recovering from an accident and is super cuddly. "Jimmy's not mine," she avers while speaking of her love, Insta posts demonstrate fairly well. "Wait for another picture that I am posting on Monday," she winks.
Finally there!
Cricket, controversies, modelling, acting, Gabriella went around a full circle before she found her calling in designing. "My mum is a designer back home (South Africa). I have loved it too and being a model, actor only helped me understanding the branding, the commercial aspect of it," says the designer, who calls India home for last 10 years.
Funny and sweet, she proclaims her love for everything Indian just that the heat gets too much at times, "Trust me, people think Indian tourism pays me to say that but I am genuine in love with this country." What she's still not get the hang of is GST, "But then that's with everybody," brushes aside Gabriella, who is in awe of how Indians have embraced global with full fervour yet kept their love alive for tradition. "When I began it took me some time to know fashion preferences but now I am fairly well versed," offers she dressed in a maxi dress, her go-to style every summer!
["source=tribuneindia"]