Health
7 breakfast mistakes that are making you fat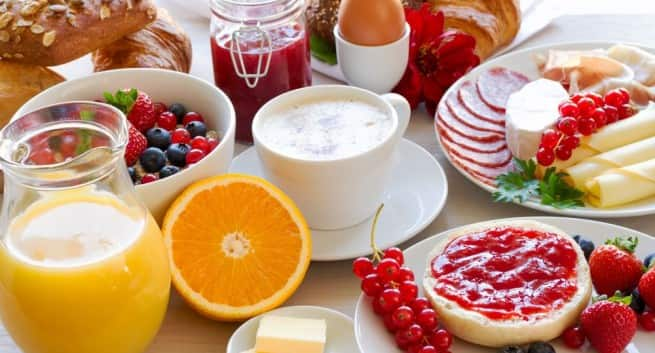 How many times have you heard that breakfast is the most important meal of your day? While you might be aware that skipping breakfast could lead to weight gain, small mistakes you make every morning while preparing your breakfast could also prove to be counter productive for your weight loss regimen. If you're trying to lose weight within a certain time span, avoid these seven breakfast mistakes.
1. You have flavoured yogurt
One of the latest weight loss fads in India are a wide range of expensive, imported yogurt brands that are now available in most local grocery stores. You might have read about the various health benefits of yogurt but flavoured yogurt tastes so good because of its high sugar content. Don't fall for any of its weight loss claims. Instead, make fruit and yogurt muesli or banana yogurt custard at home if you want to avoid consuming too many calories.
2. You drink too much fruit juice
Another popular breakfast item that most people think is healthy is different kinds of fruit juices. Packaged fruit juices contain sugar, citric acid and other chemicals to make it last longer. Don't fall for claims like 'All natural' or 'Sugar free'. These are the number of calories in your fruit juices. It would be a far better idea to have whole fruits instead of fruit juice.
3. You have deep fried Indian breakfast items
One of the most popular breakfast dishes in India include medu vadas (2 pieces are 325 calories), sabudana vada (4 pieces are 160 calories) , vada pav (300 calories),misal pav (298 calories) , fafdas (a small cup is around 87 calories) and puri bhaji (350 calories). The main problem with all of them is that they are deep fried. Even with misal pav, too much oil is added for more spice and flavour.  Other than the fact that they are extremely high on calories, eating such heavy food items as your first meal will leave you feeling bloated and sluggish throughout the day.
Instead of medu vada or sabudana vada, switch to idlis or a simple plate of sabudana khichdi. Avoid puris as they are deep fried and have chappatis in place of them. Look for healthier options to avoid weight gain.
4. You eat energy bars for a quick breakfast
Energy bars have become fairly popular in India and boast of ingredients like muesli, flaxseeds and other 'healthy' food items for those on weight loss programs. However, these energy bars also have very high sugar content. Make sure to read the ingredients carefully before investing in them and don't buy them in bulk. Instead, avoid wasting your money on these expensive energy bars as far as possible. These are the 9 foods that have more sugar than you think.
5. You love waffles and pancakes
Who doesn't love a plate of hot waffles or pancakes with a generous drizzle of sugary syrup or chocolate? Though these breakfast items are delicious and tempting, they are made of maida or refined flour with makes it difficult to digest. Not to mention they are high-calories dishes and contain a lot of sugar. Instead, lose more weight with this recipe for low-calorie pancakes. On your cheat day, you can use this healthy recipe for banana pancakes with chocolate sauce that has whole wheat instead of maida.
6. You eat a light breakfast
While you're desperately trying to lose weight, you have been drastically cutting down your calories consumption. If you're only eating one boiled egg or just a cup of coffee for breakfast, you will only suffer from intense hunger pangs throughout the day. Have a heavy breakfast so you feel full throughout the day. This will help you snack less and achieve your weight loss goals within a few months.  Don't hesitate to add a few almonds, walnuts and also good carbs to your breakfast.
7. Your kitchen is stocked with flavoured oatmeal or cereal
Oats have many health benefits  but opting for flavoured or sweetened oatmeal is not going to help you in weight loss. While honey flavoured or maple syrup oats sounds delicious, again, each serving has very high sugar content. Instead of going back to a bowel of bland oatmeal, you could try these yummy oats recipes for weight loss. You could try out these expert tips to reduce your sugar intake.
["source-thehealthsite"]