Career
Call me Mohamed: Mo Farah to change brand for road racing career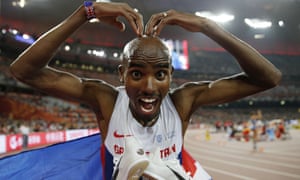 Sir Mo Farah wants to be known as "Mohamed" when he starts the next chapter of his career.
The 34-year-old claimed a silver medal in his last track championship race in London, finishing behind Ethiopia's Muktar Edris in the 5,000 metres on Saturday night.
Farah is now switching his focus to road racing and wants it to be a fresh start, with the four-time world champion ditching "Mo" to become known as "Mohamed".
He said: "My road name is Mohamed. I just feel like Mo is done. I need to forget about what I've achieved and what I've done."
The decision to rebrand follows a stormy end to his glittering track racing career in which he accused sections of the media of trying to "destroy" his achievementson the track with unfounded allegations against his coach Alberto Salazar and insinuations about how he attained his success.
"History doesn't lie," Farah told his critics. "What I achieved over the years, people are proud of me. You can write what you like. The fact is I've achieved what I have from hard work and dedication. Putting my balls on the line, year after year and delivering for my country.
"It's like a broken record, repeating myself," he said. "If I've crossed the line, if Alberto's crossed the line, why bring it up year after year, making it into headlines? I've achieved what I have achieved – you're trying to destroy it."
Source:-.theguardian