Career
Damon Agyeman scores first career WHL goal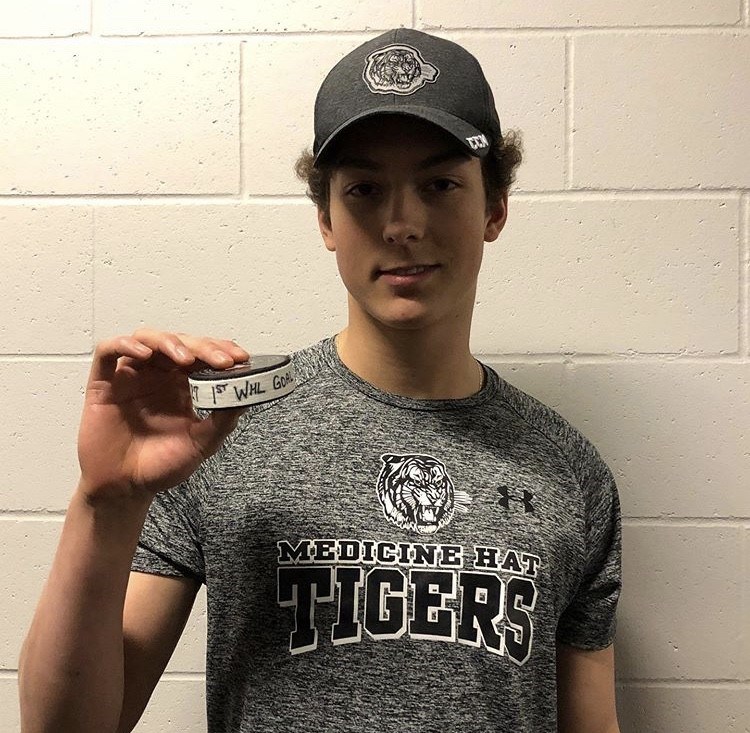 Coming into their Jan. 11 match up with the Moose Jaw Warriors, Medicine Hat Tigers defenceman and Cochrane resident Damon Agyeman had only played seven games of his rookie season in the Western Hockey League (WHL). His eighth turned out to be the lucky one as he scored his first career WHL goal when he found the puck in the slot and backhanded it into the open net.
The game was a bit of a weird experience for Agyeman, who normally plays on the Tigers back end but got bumped up to forward for the game due to injuries.
"It's really exciting," he said when asked about what he was feeling after he scored. "It's a weight lifted off my shoulders, I wasn't expecting to be in the line up or playing forward but it was a lot of fun."
"I've played defence most of my life so that jump to forward was a lot different … just getting used to the systems and getting more up the ice. The first few shifts I was just kind of feeling out the position and game, trying to get my legs under me and then I potted one so it couldn't have gone much better than that."
Agyeman said he felt a rush of emotions in the seconds leading after the goal, where he let out a big fist pump in celebration of potting his first goal at the junior level.
"I don't think right after the goal (the feeling of scoring) had set in right away," said the 17-year-old. "I don't know if it was shock, but it was a weird feeling … it didn't feel real at the moment but now that it's been a few days, it's kind of set in. I think it gives me confidence moving forward, maybe makes things a little easier. Just going forward, knowing that I got in the line up, played well and scored, it gives me a little bit of confidence moving forward."
Agyeman has never been known as an offensive force, more of a defensive defenceman. He scored four goals and added six assists in 30 games last season with the Under-18 AAA Airdrie CFR Bisons and his highest point total was in the 2016-17 season with the Under-15 AAA Airdrie Xtreme where he had 17 points in 32 games. He said the transition from minor hockey to junior has been different from anything he's been used to.
"It's a lot different. It's the same sport but couldn't be more different in my opinion," Agyeman said. "You've got to work every day, it's a lot more professionalized, ice time has to be earned and you go from being one of those top guys (in minor hockey) to kind of at the bottom in junior."
"It's been a good learning process … it's frustrating at time but overall it's been really good. I've learned how to be a good teammate, putting the team's needs before your own, coming to the rink every day, doing your own thing and put in the work. I've got to trust the process and things will eventually work out."
Agyeman isn't the only Cochrane-born player on the Tigers roster, as he's joined by forward Caleb Willms, who has nine points in 24 games, which also includes his first WHL goal. Agyeman said it's nice having a familiar face around the locker room.
"Yeah it's pretty cool having him here," Agyeman said. "It makes it feel like you aren't far away from home so it's been good."
Agyeman and Willms aren't the only Cochranites playing hockey at a high level, with Dillon Dube and Justin Dowling in the NHL while Connor Bouchard and Tyrel Bauer proving their worth at the WHL level with the Tri-City Americans and Seattle Thunderbirds respectively.
"I think it's huge," Agyeman said. "At all levels, Cochrane is a hockey town. We have 30,000 people (in Cochrane) and the talent that comes up and plays in the WHL, NCAA and pro, I think it just speaks to the coaching, players and organization we have in Cochrane."
Agyeman said his goal for the remainder of the season is for the Tigers to win the WHL championship. The team currently sits second in the Eastern Conference with a 28-12-2 record through 42 games.
"We want to win a championship," he said. "That's been our goal this season, we have the guys to do it and everyone in the room believes we can so that's the ultimate goal."
Aygeman will be looking to draw back into the Tigers line up when they take on the Lethbridge Hurricanes on Jan. 18.
["source=cochranetoday"]