Fashion
Style is dead: why brunch has replaced fashion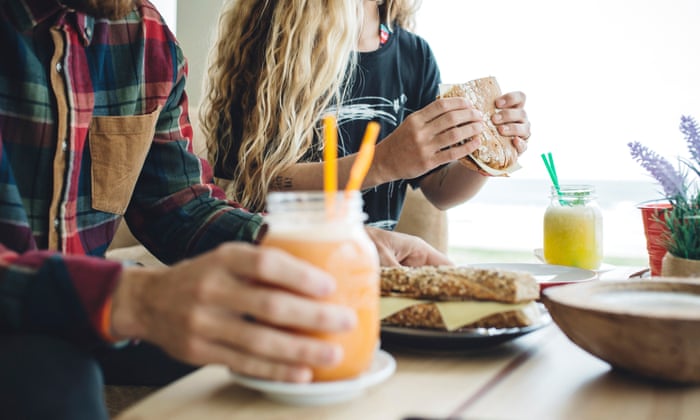 Going out to eat does not require a white tablecloth and a decanter of wine to be an event. Photograph: Westend61/Getty Images/Westend61
Is there no end to the evil that is avocado toast? Not content with keeping Generations Y and Z off the property ladder by trapping them in salary-hoovering brunch-addiction and destroying the environment in the Mexican state of Michoacán, where pine species are being felled to make room for the crop and soil erosion is endangering the habitat of native butterflies, the evil green stuff is now destroying the fashion industry.
Style is dead, long live lifestyle. Across the UK, sales of clothes are falling as we choose to spend our cash on going out for brunch. (Or on going to the gym, on a festival ticket, on a holiday.) The experience economy is squeezing our clothes budgets. In 2016, spending on recreation was up 8% year on year among UK consumers, while fashion brands struggled with falling receipts. Last year, a Harris group study in the US concluded that three in four millennials would choose to spend their money on an experience or an event over something physical. An aspirational Saturday afternoon is no longer about dropping a wedge in Topshop; it is an Instagram selfie from the farmers' market showing you and your best friend in your power mesh leggings you wore to boxing class (£15), splurging on bunches of peonies (£8) and artisan walnut bread (£4.50) before tucking in to a Korean kimchi-tofu-scramble brunch (£10).
At its most haute, style has always been about lifestyle. A haute couture ballgown is a beautiful object, but nobody ever paid a five-figure pricetag purely for the love of organza. The expense, the requirement for multiple fittings in Paris, the balls that are implied by the word gown: the lifestyle has always been absolutely the point. When you wear a made-to-measure Savile Row suit, the power dressing establishes membership of the upper strata of the workforce, while also being a badge of being singular. Both the ballgown and the suit are roundabout, cumbersome 20th-century takes on the VVIP pass.
It has taken until the 21st century for an aspirational lifestyle to trickle down to us, the norms. At the turn of the century, exercise was a tedious utilitarian chore performed in striplit municipal rooms while staring at MTV on a muted screen. Now, it is your chance to channel your inner Gwyneth Paltrow while picking up styling tips on the artful layering of athleisure.
And since it now takes perfectly normal people five words to order coffee, going out to eat does not require a white tablecloth and a decanter of wine to be an event. So if your gym clothes and a favourite pair of jeans look good enough to take you through to dinner time on social media, why shop for anything else? Since what we really, really want is the life, rather than the look, a stuffed wardrobe is now just about as modern as a wallet stuffed with coppers and stamps.
["Source-theguardian"]