Health
Parenthood Is A Rollercoaster Ride, Prepare Yourself For It With Your Kids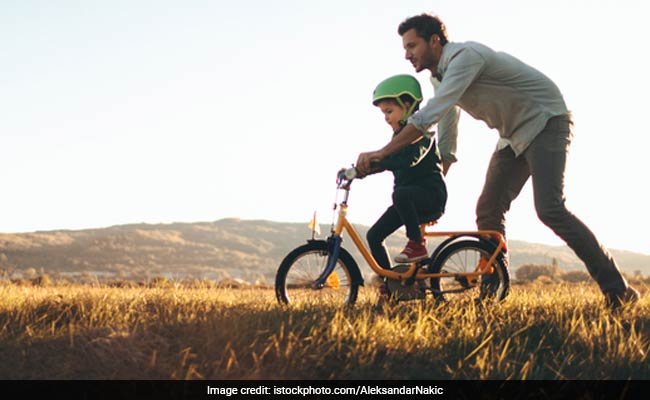 Parenthood comes with countless surprises. Most involve bodily fluids. Like, for instance, the sudden lack of opportunities for Mom and Dad to sweat. "We both used to get up in the morning and just go exercise," explains Amanda Holliday, a dance fitness teacher whose son was born in 2016. "That's not happening anymore." Even if it's possible to tote the kid along for a workout, there's a lot more to consider beyond your number of reps — and a lot more to cram into your gym bag.
And although it seems it should get easier to carve out me-time as tykes turn into tweens, don't count on it, says Jennifer Lungren, 44, who's been teaching suburban fitness classes for moms for 15 years. Thanks to her four kids (ages 8, 10, 13 and 15), every afternoon, evening and weekend is a blur of shuttling between activities.
If you don't want to take an 18-year break from exercise, consider these strategies to make workouts work for families.
Parents of infants
Congratulations, you now have a weight that probably will cry and scream if not held constantly.
This can be an opportunity, suggests Holliday, 30, who quickly discovered that her son was happiest when snuggled and swayed in a baby carrier. Rocking him to sleep at 3 a.m. got boring, so she experimented by adding in some salsa moves. He was such a great partner that she created a baby-wearing dance fitness class, Baby Mombo, which she started teaching when he was just 8 weeks old. Think smooth steps and belly dancing to get the heart rate up and work the core, plus squats and lunges for toning.
"People have taken it at different levels of sleep," notes Holliday, who keeps the choreography simple. And of course, as the kid gets heavier each week, it's more of a challenge.
There's also plenty you can do with a kid in a stroller, including running or a structured program. The best known is probably Stroller Strides, a class developed by Fit4Mom, which has franchises nationwide. The idea is to pepper total-body mom moves with songs to keep everyone entertained.
The important thing is just to start doing something, says Lauren Gerard, 27, a Fit4Mom instructor in Washington who didn't exercise at all the year after her now-3-year-old daughter was born. "Everything seemed like a monumental task," she recalls. But once she managed to drag herself to a workout, she discovered energy that lasted throughout the day.
Parents of toddlers
Once kids advance from crawling to walking to please-stop-at-the-corner zooming, all parents become expert sprinters. But most of the time, the job of a lifeguard is pretty sedentary, which means missing out on fitness opportunities.
So in the new toddler classes at Urban Evolution parkour gym, owners Salil Maniktahla and Malikah Lakhani (who have 2-year-old twins themselves) have made parent participation mandatory. The goal is to help them learn to climb, balance and fall with their kids, Maniktahla explains. "It's how we play with our own children," he says. Parents can learn more from experiencing rather than just supervising – plus, he adss, getting out of a foam pit is really tough.
Holliday, who teaches two spinoffs of the popular Zumba dance workout — Zumbini (ages 0-4) and Family Zumba (ages 4 and up) — has a similar take. "It's funny how many parents come in jeans the first time. We sweat," says Holliday, who wants them to jump like kangaroos not just when they're with her, but also when they're home or at the park. Although goofing around at the playground "isn't going to melt off 20 pounds," she says, it's a way to fit in some extra activity.
Ideally, that's a supplement to the time you're also taking for yourself. "You have to block it off," says Shea Miller, 38, who has two sons, ages 4 and 18 months. She's devoted to Fit4Mom's Body Back Boost classes, high-intensity workouts meant for moms to do without their kids. Sometimes she's there at 8 p.m., just after bedtime. Other days, it's 5:45 a.m., before anyone else at home wakes up. (Her trick for getting ready fast in the morning: Sleep in her workout clothes.)
On a recent Tuesday night, after an hour of sumo burpees, Russian twists and planks galore — followed by an empowering meditation — Miller and other moms discussed how the most difficult move is usually just escaping the house. "My last vision of my youngest tonight was her saying, 'Don't go!' " Cathy Weber, 40, said. The group reassured her: Getting out to get exercise isn't selfish. It's being a role model.
Parents of grade-schoolers
Kids will naturally be curious about the kinds of activities you do for fitness, and as they get older, they can actually do them with you — such as hike a trail or bend into yoga poses. It can be rewarding to pay attention to what they enjoy and find ways to join them.
Clay Smith of Mobile, Alabama, had never been a runner. But when his son Stone was 6 and already quite speedy, his gym teacher recommended signing him up for a 5K. So, both father and son trained for a few weeks. "And we had a good time," says Smith, 42, who credits his now-13-year-old son for helping the whole family (including his wife, Christi, and 11-year-old daughter, Audrey Kate) get into the habit of running together whenever possible.
"When my son wanted to wake up on a Saturday morning and spend time with me, I didn't want to turn that down," Smith says. Races and fun runs have become their favorite social activity, which is why when they lived in Washington last summer for Smith's work, they all hit the streets with a club organized by Pacers Running on 14th Street NW. (It didn't hurt that one of the group's monthly events is the Shake Shack Run.) Smith's advice? Finding a community — especially one with other parents and kids — makes it easier to log miles.
For Jonathan Hill, 39, and Jennifer Dolan, 42, parkour is the way they bond with their 10-year-old daughter and 8-year-old son. They discovered Urban Evolution around the time the kids were outgrowing the child-care center at their more traditional gym, and they were drawn to the fact that kid and adult classes often lined up on the schedule. Now, quite conveniently, every member of the family is obsessed.
"The logistics are much easier when everyone needs to be at the same place at the same time for classes," Dolan says. They've also brought parkour home by transforming their basement into a "general child and adult training zone," which includes monkey rings, ropes and aerial silks.
If your family has a variety of fitness preferences, see if you can pair them up, suggests Lungren, who recently went on a 40-minute run while her 8-year-old pedaled a bike beside her. Their paces matched up, and they were able to chitchat the whole way. When they got home, her daughter asked, "Can we do that again sometime?" For Lungren, it felt almost as if they were doing Stroller Strides together again.
Parents of tweens and teens
Your kids are finally more "independent." You? Not so much.
Lungren says her older children occasionally swim laps or lift weights with her, but more often she's waiting around during their sports practices. To keep thumb-twiddling time to a minimum, she and her husband plan out their weekly schedule every Sunday. If there's a 7 a.m. swim meet and the kids need to arrive by 6 for warm-ups, there's an hour for Lungren to run. She's gotten in the habit of storing resistance bands, a yoga mat and some weights in her car. They don't take up much space and allow her to do on-the-go workouts.
One lesson for parents to remember when exercising with teens, says Ricky Ricardo Aguilar, who runs Urban Boxing DC's kids program, is that you're not their coach. And pushing them too hard can backfire. "You mess with their self-esteem," explains Aguilar, 44, who speaks from experience as a single dad to two athletic daughters, now 25 and 26. If he could do it over again, he'd be less of a drill sergeant: "Of course we want the best for our kids, but you can lose track of what's important."
He was hired recently to do a personal training session for an entire family — teenage son, 20-something daughter and their parents. "Dad was hitting hard, and mom was a little slower, but no one felt left out," Aguilar says. "In boxing, everyone is at their own level."
The ring also offers an apt metaphor for getting exercise while child-rearing: You have to roll with the punches.
["source=doctor.ndtv"]