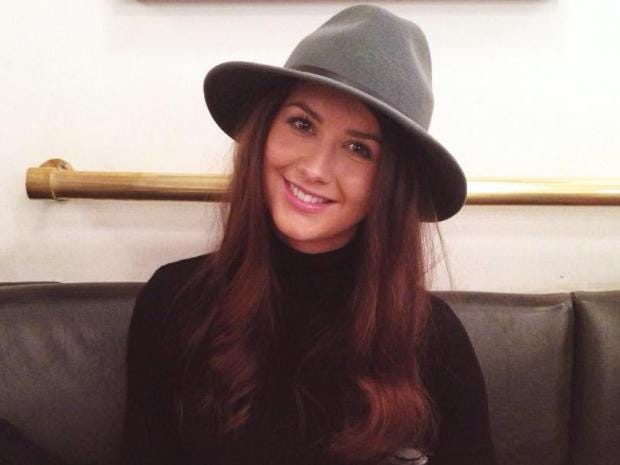 Ms Roebuck, 24, said she thought it was "madness" when careers advisers at an EU networking event in Brussels advised her that she would have to obtain French nationality in order to have job prospects in Brussels Sara Roebuck/Facebook
A British student studying in Paris has been told that getting a job with European Union (EU) institutions will be "out of the question" after Brexit.
Sara Roebuck, who is doing a double masters in European politics at Sciences Po Paris and the London School of Economics, recently attended a careers event in Brussels with her university class to discuss job prospects at institutions like the European Parliament or the European Commission.
Instead, advisers at the EU department that recruits public servants told the 24-year-old she would have to obtain French nationality in order to have any chance of following that career path.
She was told that while technically it would be possible for her to pursue a career in Brussels prior to the UK's departure from the 27 nation bloc, it would "not be worth the effort" because there would be "no future" for her as a British citizen post-Brexit even if she obtained her Masters — a claim she described as "madness".
"They told me that a career in the EU is out of the question for me unless I get French nationality," Ms Roebuck told The Independent.
"They said that although technically it's not impossible, as we are currently still a member state and when I graduate in 2018 we still will be, in terms of my career it's not worth the effort because there is no future for me in the EU as a British citizen, even with the qualifications I'll have.
"So if I want a career in the EU I will 100 per cent have to move to France after graduation and obtain French nationality and go as a French citizen. They weren't nasty about it or anything, they just said it how it is."
She added: "This means that I would have to relocate to France after I graduate and work here for two years to get French nationality just in order to get European citizenship, which would allow me to further my career options. I think it's absolute madness, given that I was born a European citizen and I now have that ripped away from me."
Ms Roebuck, who is the only British student on her course, said that while her mainly French and European classmates found the careers event positive and helpful, she was left feeling "separate and angry", adding that there was a general anti-British sentiment in both Brussels and Paris.
"The only thing I'd be able to do would be to work in the department for exiting the EU potentially under Theresa May's leadership, and I'd rather not do that," she said.
"There's a lot of anti-British sentiment I feel — not so direct, but subtle comments — both in Brussels in Paris. I'm sad for the next generations whose opportunities to learn European languages and gain experience in France as I have will be so much more limited now.
"Particularly owing to the culture that will prevail in the UK in the next ten years, with the mentality of 'what's the point in learning French or German or Spanish if I can't go to Europe?'"
British graduates who are already working in EU institutions are said to be feeling uncertain about their future employment, and Ms Roebuck said that after finding out that her own prospects in Brussels were very low, she felt she was having to "change her life" in order to get around Brexit.
"Having spoken informally to people UK graduates working in the EU institutions who are currently working in the parliament, no one really knows what is going to happen for them, but for future graduates like me it's just completely out of the question," she said.
"And equally, regarding my future, I'm having to make serious lifestyle choices about where to live post-graduation to decide how valuable EU citizenship is to me professionally. I'm literally having to change my life in order to get around Brexit — it's madness."
She added: "When I was doing my undergraduate degree in the UK, the EU institutions were always talked about but I found getting information from the UK side always quite difficult. Yet as soon as I started at Sciences Po, which is one of the biggest political science schools in Paris, everyone talks about working for Europe and it's a really well-respected career path.
"So it was always hard starting my course with Brexit looming. That definitely held me back in a way that is different from my European friends."
Ms Roebuck is one of many young Britons living in Europe who are concerned about changes to their future employment prospects on the continent as a result of Brexit.
Luke Kindness, 24, who has been teaching English in Spain since last year, said he was concerned that his opportunities would become limited throughout Europe following Britain's departure from the EU.
"I'm worried about employment prospects in the EU, because I think opportunities for Britons to do what I'm doing will become limited, not just in Spain but all of Europe," Mr Kindness told The Independent. 
"I'd like to teach English in Germany or somewhere, but I don't know how easy that's going to be with Brexit. We don't know anything for sure yet, but I think it's a given.
"If Americans want to teach here then they have to apply for a visa and few other documents, and without a doubt that will happen for Brits too, and perhaps even stricter."
Lucy Robinson, who works as an SEO associate for a US digital media company in Berlin, told The Independent that as a result of Brexit she was having to consider her future options in "far more restrictive" terms.
The 24-year-old said: "It's not something us who voted Remain and actually already live in Europe asked for and of course those who've been in Europe for over 15 years had no say at all. So it's rather frustrating to now have to suddenly worry about things like visas.
"The necessity to apply for a visa to live and work in European countries would I'm sure be a reason not to bother moving for many Britons. The Britons who voted to leave wouldn't want immigrants coming to the UK who couldn't speak English – why should EU countries want us?"
Since the Brexit vote, a coalition group called British in Europe, made up of 11 citizen groups across Europe representing a membership of around 35.000 Britons, has been standing up for the rights of UK citizens in the EU and EU citizens in the UK, aiming to ensure that their rights are fairly and equally represented in forthcoming Brexit discussions.
The coalition has recently urged Theresa May to renew the Conservative's pledge to give all British people living overseas the vote, stating in an open letter to the Prime Minister: "There is consternation, and anger, at the failure by the government to honour its 2015 general election manifesto pledge to introduce votes for life."
["source-independent"]