Career
James Haskell calls time on stellar career with regrets and a warning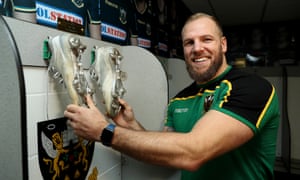 For James Haskell the prospect of life after rugby is terrifying. Having announced he will bring an end to a stellar 17-year career at the end of the season, said a teary goodbye to his Northampton teammates and confirmed that we should not expect to see him on Strictly Come Dancing any time soon, Haskell is daunted by the blank canvas he faces.
It is a surprising admission because during the 77 England caps, the Lions tour, the titles won with Wasps and the stints in France, New Zealand and Japan, Haskell has always kept himself busy away from the field. Indeed, he has often been ridiculed for doing so and though it is true to say he has never been shy of promoting his business interests, he is unlikely to be short of work as a result.
"So many people criticised me early in my career for doing stuff outside of rugby, now the Rugby Players' Association actively recommend it," the 34-year-old said. "I want to do presenting, I love DJing, I love writing but none of it's a guaranteed job so it's still very scary. I'm unemployed at the end of the [season] and I don't have a guaranteed salary.
"I've been in this kind of environment since boarding school aged eight, finding my feet again is going to be really hard. There are a lot of emotions with [retirement]. A lot of sportsmen get depression, all sorts of mental health issues. A lot of people retire and you don't hear from them, but I don't want to do that."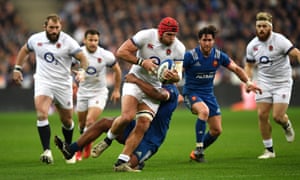 What convinced Haskell to call it a day was the realisation a few months ago that, after long-standing toe and ankle injuries, he would not be involved in theWorld Cup. His insistence on doing things differently has often made him a figure of fun, but it is hard to recall many players more passionate about appearing for his country.
"I just knew that if I wasn't playing for England, then there's no point carrying on," he said. "Ideally I would've finished in a blaze of glory, it's going to be a little fizzle. I'd have liked to have had Eddie Jones coaching me through a World Cup. I am even more sad because I genuinely believe they can win it. If they do, 99% of me will be very happy and the other one per cent will be like, 'Fuck!'"
It seems fitting the first person Haskell told of his intention to retire was Jones. Haskell was named man of the series in England's 3-0 whitewash of Australia in 2016 – Jones's first year in charge – producing remarkable performances in the opening two Tests having considered his international career over after the 2015 World Cup.
"My best games for England were under Eddie Jones," he said. "Eddie got the best out of me. He understood that I needed an arm around me, needed my tyres pumped up. Everyone brings up how good those two games were in Australia – at the time I realised that everyone was being a bit nice to me. On social media nobody told me to retire or shoot myself in the face."
As frustrated as Haskell is to miss out on a third World Cup, having endured "shambolic" campaigns in 2011 and 2015, part of him is glad to have "escaped" a sport that has changed so much since he joined Wasps in 2002. "I'll be interested to see where it goes because I don't know how much bigger everyone can get. The young players coming through are mutants. People used to label me with that tag but some of them now are doing weights from 11. People have to want to pick up a ball first, not a weight.
"Skills are fundamental, as are personalities. That is one criticism I would have of the game now: everything is so sanitised. I coached some kids the other day, they had the social skills of a brick. That is what I worry about."
Haskell does not have many regrets but among them is a failure to represent the Barbarians, while he also laments possessing the very quality that could be considered his greatest strength. He wishes he had stopped to appreciate the successes more, but his refusal to do so ensured he wrung every last drop out of his talent.
"I was always on to the next thing," he said. "I didn't celebrate all the little moments in my career that I should have done, I always focused on what was next, how could I do better. Apart from that I'm pretty happy. Throughout my career I tried to be somebody different. I saw the easy ride that quiet and unassuming guys got but I was never going to be like that."
["source=theguardian"]