Health
Triphala Churna: A Fuss-Free Way to Get Rid of Your Digestive Issues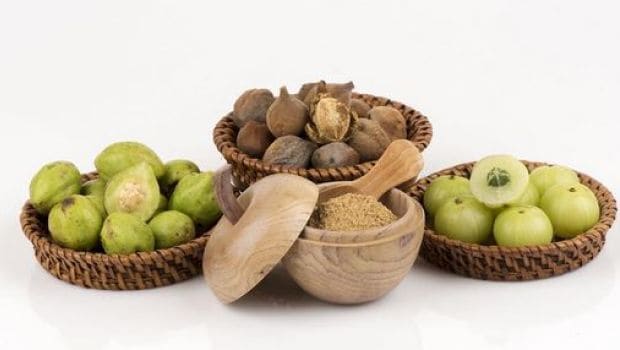 Ayurveda is a goldmine of remedies that promise a cure for some of our everyday health woes. The age-old science comes studded with the discovery and exploration of rare and potent ingredients and herbs. These are often teamed with many commonly available items to create healing, health-benefitting concoctions. Triphala churna has existed in the Ayurvedic repertoire for centuries now. The churna is a mix of amla (Indian gooseberry) powder with two other fruits that are dried and powdered. Ayurveda recommends taking equal quantities of amla powder, bibhitaki – alternatively known as terminalia bellirica or bahera – and hartaki also known as harad to create Triphala.
"There exists a range of Triphala products available in the market for easy and fuss-free consumption. Some of these would include Triphala teas, tablets and juice," noted Dr. Ashutosh Gautam, Clinical Operations and Coordination Manager at Baidyanath.
Some Ayurveda texts recommend 1:2:3 ratio of bibhitaki, harad and amla respectively to derive Triphala. The powder is known to cure and heal a range of ailments. It comes laced with Vitamin C and antioxidants among other essential micronutrients. It has anti-inflammatory properties that also help in bone-related inflammation and ailments such as arthritis. It helps facilitate weight-loss and aids in treating diabetes as well. The term 'Triphala' is derived from two Sanskrit words – Tri meaning three and phala stands for fruits. The term literally means the coming together of three distinct fruits.
"Triphala is beneficial especially for those with digestive issues. Harad has laxative properties; it eases constipation while amla and bibhitaki are excellent for digestion. The mix is therefore ideal for those with stomach issues, constipation and digestive disorders. Consuming Triphala powder helps fortify hair and resolve hair fall. It is good for skin and eyesight, strengthens immunity, releases toxins, aids in weight-loss and acts as a detoxing agent for the body," shares Dr. Ashutosh Gautam.
Ways to Use Triphala
The best way to add Triphala to your diet would be to take a teaspoon of it and mix it with warm milk with the addition of honey. "When you have it at night with milk and honey, it benefits your eyes," shared Dr. Gautam. You can soak a teaspoon of Triphala in water, strain the water and use it to wash your eyes in the morning, it will help with eye allergies, irritation and will cleanse them – you can also wash your face with the same. Skip straining and use it to scrub your face to get rid of skin issues, acne, pimples and arrive at naturally radiant skin. Two teaspoon of Triphala powder can be added to your face scrubs or packs. You can boil water with coarse Triphala powder and keep sipping on it throughout the day to detoxify your system, cleanse your stomach and facilitate weight loss. Boil together shikakai and Triphala powder to use it as a hair wash; it will add strength and sheen to your hair.
"Pregnant women are usually kept off laxatives or the associated ingredients during the first two trimesters of their pregnancy. Triphala should therefore be avoided. Consult your doctor or medical expert before consuming it in any form," concluded Dr. Gautam.
All remedies are sourced through Dr. Ashutosh Gautam, Clinical Operations and Coordination Manager at Baidyanath
["source-ndtv"]