Health
Diwali 2016 Special: 3 Breathing Exercises to Help You Deal With the Pollution this Diwali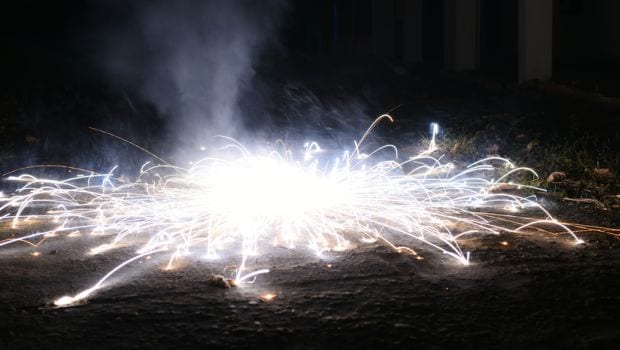 Diwali, the festival of lights, is here and we all are geared up with our favourite mithais, namkeens and other goodies. Diwali festivities are never devoid of firecrackers that cause a measurable spike in air pollution levels every year. Delhi Pollution Central Committee (DPCC) suggests the contamination levels in the capital city to have markedly skyrocketed before Diwali. This pollution majorly originates from the smoke emitted from firecrackers and adversely affects the health of a lot of people, especially those suffering from respiratory problems like asthma. According to the National Air Quality Index provided by the Central Pollution Control Board this year, prominent pollutants like carbon monoxide, nitrogen dioxide and sulphate are hovering at 'dangerous' levels between 200 and 500 in cities like Muzaffarpur, Lucknow, Faridabad, Kanpur and Agra. The case in the Capital is much grimmer. Air quality in Delhi rose to 'severe' level following Diwali celebration with pollutants rising by 20 times in certain areas owing to incessant fireworks and bursting of firecrackers.
But what can be done? You ask. Here's the answer – Yoga. Probably the ideal approach to help you increase your lung capacity, yoga also keeps toxins from entering your body. So to avoid these toxins from harming your respiratory system, one needs to follow the prescribed method of breathing and relaxing. Yogi Anoop from the Chaitanya Foundation, Mediyoga, explains the typical yogic breathing as the one where "when you breathe in, your stomach swells out, followed by your chest and while you exhale your stomach goes in first and then the chest". Through this deep breathing technique you absorb maximum oxygen in your stomach first, then by the chest and vice versa as you exhale.
We've put together some breathing exercises that can help you counter the air contamination this Diwali:
1. Bhastrika: This breathing exercise not only aids detoxification of the system but also helps in providing energy to the body. According to Yogi Anoop, Bhastrika doesn't give the pollutants the chance to remain in the body for long. Before they can be stored, they are removed immediately. However, he says that individuals who are experiencing breathing problems like asthma should practice this technique under guidance. Here's how to do Bhastrika in easy steps.
1. Sit up tall, relax your shoulders, take a few deep breaths in and out from your nose. With each inhale, expand your belly fully as you breathe.
2. Begin breathing by exhaling forcefully through your nose. Follow by inhaling forcefully at the rate of one second per cycle.
3. Make sure the breath is coming from your diaphragm; keep your head, neck, shoulders, and chest still while your belly moves in and out.
2. Kapalbhati: Every yoga practitioner's top choice, this is one of the most useful breathing exercises that help detoxify your entire system. For individuals who are suffering from breathlessness, this exercise helps in clearing out all the toxins from the frontal brain and lungs. Here are the basic steps to do this exercise:
1. Sit straight with your spine erect and cross your legs in front of you.
2. Take in a deep breath, exhale quickly and suddenly making a puffing sound while you do it. Focus on exhaling forcefully and not on the inhalation.
3. When you exhale, draw your abdominal muscles inward simultaneously. Your abdomen should rise when you inhale and fold when you exhale.
4. Continue this for another 10 minutes and then relax your body.
"Kapalbhati involves a series of dynamic exhalations followed by submissive inhalations. Practicing it on a regular basis can boost energy and help cleanse the respiratory system. It strengthens the abdominal muscles, increases oxygen flow and can even improve digestion," Prosenjit Biswas, Fitness Manager, Skulpt Gym.
It often gets difficult to differentiate between Kapalbhati and Bhastrika. The major difference lies between the breathing technique. Kapalbhati is also called the sneezing technique and is done via the stomach. Bhastrika, on the other hand, involves fast breathing carried out through the chest. While practicing Kapalbhati, the emphasis is always on exhalation. Bhastrika gives equal importance to both inhaling as well as exhaling.
3. Agnisar Kriya: The term means stimulating the digestive fire. The main purpose of Agnisar is to boost the metabolism and guarantee proper functioning of all of the abdominal organs. Ajit Tapsvi, Yoga Instructor, Yogisthaan notes that, "we have a tendency to eat a great deal of junk food during Diwali". Even the food that we eat at home has some amount of toxins present in them due to the smoke emitted by firecrackers. He says that Agnisar Kriya helps in keeping our abdomen clean from these toxins and to some extent even increase our immunity system. Here are simple steps to do this exercise:
1. Sit in a comfortable position, placing the hands on your knees and hunch your shoulders up.
2. Inhale deeply and hold your breath. While holding the breath, bend your head forward and try to touch the chin to the chest.
3. Pull the abdomen in (as if with a vacuum in the chest, bringing it as inwards as possible). Now the do just the opposite by expanding your stomach to the fullest. Repeat 10 times before taking a breath.
4. Inhale and relax the shoulders slowly.
Master these breathing exercises and don't let the air pollution play dampener to your Diwali celebrations.
["source-ndtv"]